How do you find peace in an anxious world? Is curing anxiety as simple as remembering the stories of God's goodness?
Anxiety in America
Anxiety is a real problem. According to some National Institute of Mental Health 18% (or 40 million) of Americans suffering from Anxiety Disorder. Others estimate this number to be too low based on people who never seek help or are misdiagnosed. They suggest the number could be as high as 30% of Americans suffering from anxiety.
Of those who suffer from anxiety, 56% have a moderate to high degree of anxiety. So not only do a high number of Americans deal with anxiety (somewhere between 40 and 70 million people), but 20-40 million people deal with a higher level of anxiousness.
Anxiety is a real problem.
My anxiety
While I've never been diagnosed with anxiety disorder, I do know the feeling of tightness in my chest, a sense of overwhelming fear, and being too locked up emotionally to make a decision. It's a horrible feeling. The pandemic of 2020-2021 was a major source of anxiety for myself and millions (billions?) of others. We are living in a world of trauma.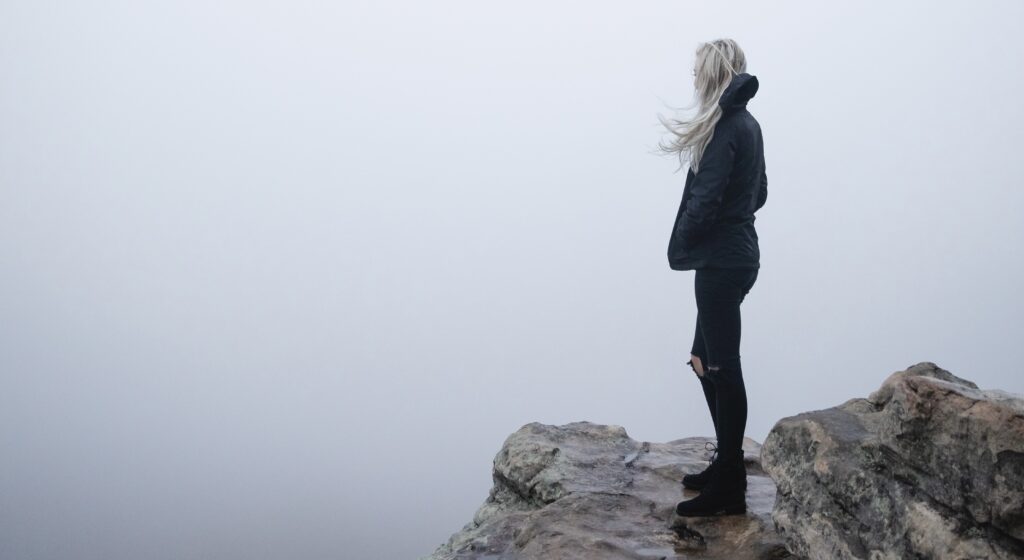 I remember years ago this overwhelming sense of dread driving home from a week long vacation. It had been a beautiful getaway with just Kia and another couple, and now we were making the 10-hour drive home. Pulling away from our lodging, I began to think of a major event I was in charge of just a few weeks away. My pulse raced. My chest tightened. I was overwhelmed.
In the midst of this minor panic attack, I needed help.
We all need help. For some of us, this means we need the help of a professional therapist and medication. That route is always an option, and very possibly the best option for you. If you suffer from anxiety, I encourage you to find the help of a good counselor.
But I also believe help can be found in your faith.
Anxiety in the Psalms
We don't know much about Asaph in the Bible. It seems he was a Levite who David put in charge of singing in Jerusalem's Temple. We know Asaph also wrote Psalm 77. He wrote and sang for David, himself and God. Maybe the words of Psalm 77 were for David, who if he were alive today, could easily be diagnosed with clinical depression, anxiety disorder, or some other mental health problem. Of course, there weren't therapists or medication for David thousands of years ago, so we see David and others like Asaph deal with their anxiety through writing — mostly in the Psalms. Psalms 77 is a wonderful example of walking through the process of finding peace in a time of intense fear and worry.
Be real…
Asaph begins by explaining his irritation with God (vss 1-3). It seems God is silent in a time of need. Asaph continues with his frustration, and then he asks six pointed questions of God (vss 4-9). He asks questions like, "Has God rejected me?" "Has God forgotten to be gracious?" "Is God really loving and faithful?"
Then Asaph reaches his lowest, most fatalistic point:
"And I said, "This is my fate;
the Most High has turned his hand against me.""

-‭‭Psalms‬ ‭77‬:‭10‬ ‭NLT‬‬
This is no longer a question, but it is a statement. God is against me. I have all the evidence I need through my fear, worry, and doubt, and on top of all of this…God is silent!
If you find yourself in this same place, I encourage you to be like Asaph. Be real with both yourself and God. It does you no good to pretend that everything is okay. It doesn't help to ignore your feelings. You won't find health – in your faith, emotions, or even your physical body – if you are honest with yourself and God.
Don't be afraid to be real with God. He is God. He can handle ALL of your emotions. God created you and your emotions. He understands you intimately.
…then recall
Something switches in Asaph after asking these questions of God (in truth, accusing God of being faithless). Beginning in verse eleven, Asaph stops and remembers.
"But then I recall all you have done, O Lord;
I remember your wonderful deeds of long ago." ‬‬

-‭‭Psalms‬ ‭77‬:‭11‬ ‭NLT
At his lowest point, Asaph makes a choice to remember all the good things God has done. Beginning in verse 15, Asaph briefly recaps the story of God leading the people of Israel through the Red Sea — saving them from Pharaoh. But I want you to notice something Asaph does in this retelling of the story:
In the final two verses of the chapter, Asaph says, 
"Your road led through the sea,
your pathway through the mighty waters—
a pathway no one knew was there!
You led your people along that road like a flock of sheep,
with Moses and Aaron as their shepherds."‬‬

-Psalms‬ ‭77‬:‭19‬-‭20‬ ‭NLT
Asaph remembers how Moses and Aaron led the people through the Red Sea, but it's not just Moses' story. Asaph recalls an action common in that culture — a shepherd leading a flock of sheep through a dangerous path. His experience tells him this is how God sees us. We are God's sheep, and he leads us through dangerous and dark paths. 
It's as if Asaph points back to David's famous Psalm 23:
"The Lord is my shepherd; I shall not want.
He makes me lie down in green pastures.
He leads me beside still waters.
He restores my soul.
He leads me in paths of righteousness
for his name's sake.
Even though I walk through the valley of the shadow of death,
I will fear no evil,
for you are with me;
your rod and your staff,
they comfort me." ‭‭‬‬

-Psalm‬ ‭23‬:‭1‬-‭4‬ ‭ESV
Asaph knows God led the Israelites through that dark road. So he remembers the times God walked with him through his own dark valleys. What about you?
In your own life, it's time to remember the goodness of God. If you are currently in a season of anxiety, this will be medicine for your soul. If you feel healthy and whole, it is preparing you for the next time you are afraid, worried or upset.
Go do it!
You find peace through remembering the good things God has done for yourself and other people.
So today, I challenge you to make two lists. I want you to write them down either physically in a journal or notepad or digitally as a note in your phone.
First, ask yourself, "What good things has God done for other people?"

Make a list of stories from both scripture and from examples God's goodness in friends and family members.
Second, ask, "What good things has God done in my life?"

Now make a list of both the big things and the small things which are examples of God's goodness in your life.
Anxiety is real. It's a problem that will only grow, but you can be free. Find help if you need it, but I want you to mix in the remembrance of the goodness of God in your life.