Hearing God is a habit. We like to think of it as some sort of esoteric, spiritual exercise. Hearing God is not a random, happenstance occurrence. We put ourselves in specific places in specific ways to hear God. These ways will vary for each of us, but it is a habit none the less.
The last two weeks, I've introduced you to two different habit hints to help you create a regular way to hear God daily.
The first is to determine the Who before the Do. You need to know who it is you desire to become. When you have that picture in mind, then you know what it is you need to do, and why it is you want to continue to do it.
Second, you want to start small – let your habit begin as a seed. In practical terms, I call this the 2 Minute Commit. Develop your habit of hearing God through small commitments of reading scripture, meditating and praying two minute at a time.
So today, I want to introduce you to the third and final habit hint – Treat Yo'Self.
Parks and Rec
One of my family's favorite television shows is Parks and Rec starring Chris Pratt and Amy Poehler among others. The show is a political satire about a small town parks and rec department. Two of the characters, Tom and Donna, are both a little diva-ish who like the better things in life. In one episode, Tom and Donna determine one day out of each year is their Treat Yo'Self day.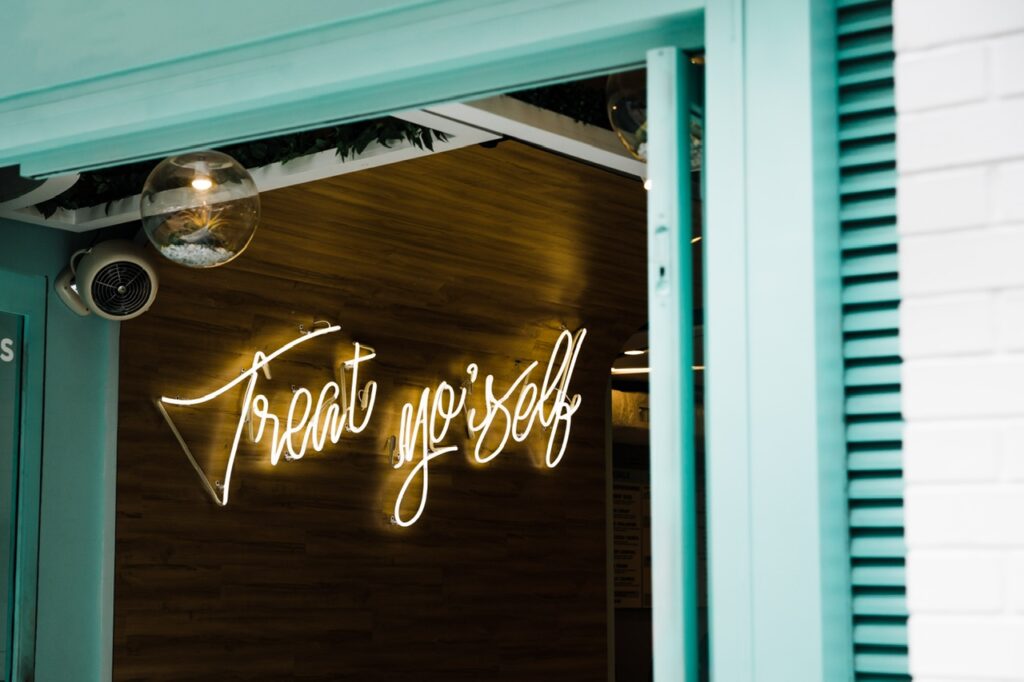 If you don't already have a picture in your mind of what that mean, let me fill you in. On that day, they visit the spa for massages, manicures and pedicures. They head to the mall to buy the things they want – no matter the cost. The eat at the finest restaurants, sparing no expense.
They treat themselves – no matter what the cost may be – for that day.
Treat Yo'Self
I'm not suggesting you cut loose one day a year, however, I am encouraging you to use this concept to help you develop habits in your life. The idea is to find rewards that will reinforce and encourage the habits you want to develop in your life. Let me give you two quick examples:
Habit Hint: Elliptical Energy
When I began working out a few years ago, I tried to walk/run on the treadmill or elliptical to music. I would pick out the most uptempo music that I could find and run along with it. It helped to give me energy and boost my mood as I ran, but honestly, it wasn't something I would look forward to preparing for my workout.
At some point, I noticed other people toting along their iPads with them as they worked out. I noticed they were watching movies and television shows as they ran, and it hit me — this is the encouragement I've been looking for. Now, I pull out my phone, click on the Netflix app, and pull-up a sitcom. Over the past few years, I've worked through Seinfeld, The Office, Parks and Rec, parts of Cheers, Frazier and now the Simpson's.
It has become a reward for me to look forward to as I work out on the elliptical or treadmill machines.
Habit Hint: Media Blitz
That is my workout routine. What about my habit to hear God?
5-6 mornings a week, I wake up between 6 and 6:30 to practice my habit of hearing God. My day begins something like this:
alarm goes off.
Get up and take care of the dog (feed, bathroom, etc)
Make coffee.
Begin reading scripture
In that 10-15 minutes I'm taking care of my dog and waiting for coffee, I really want to check out the latest news on my phone. I want to check the ESPN app for what's happening in the sports world. I want to check Google News for the latest on the world stage. Sometimes I want to scroll through my Instagram to see what I've missed from my friends. 
I save that for a reward for fulfilling the habit of putting myself in a place to hear God. I read, pray, meditate, journal. After 30-45 minutes of this practice, I allow myself the reward of checking out the media apps on my phone.
First Things First.
I put the most important habits first in my life. Then I give myself space to indulge in the less important habits.
One important note: When you choose a reward for fulfilling the habit you want in your life, make sure it doesn't undermine the habit you want to build.
In other words, don't make your reward for working out an ice cream sundae each day. Or don't reward yourself with several hours of media — this will teach you to listen to the media but not God.
What can you reward yourself with for putting the most important habits first in your life?