Transform and Roll Out
I have a top 5 list of toys from my childhood. Over 30 years later, and I can still list them for you:
Legos
GI Joe
MASK 
Transformers
In 1984, every kid knew the catchphrase of Optimus Prime, the leader of the hero Autobots, "Autobots, roll out!"Transformers burst onto the scene during my elementary years through a cartoon series. Hasbro introduced the toys 1984, and I, along with America, jumped on the bandwagon. I'm sure you're aware of the Transformers concept; they start as cars, trucks or planes but transform into robots.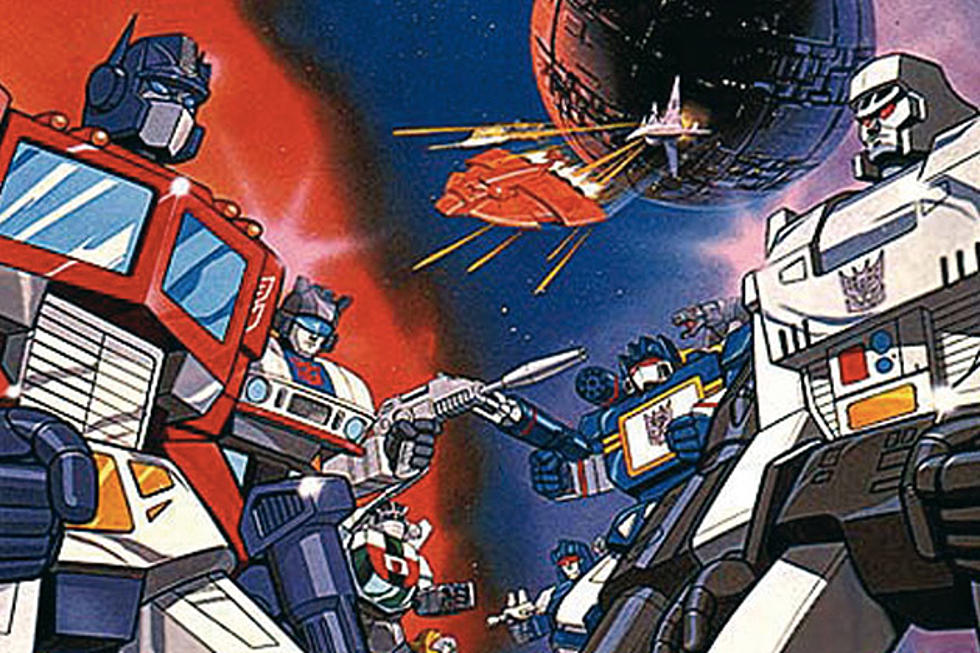 You were born with an innate desire to transform. You probably could care less about toys from the 1980's, but I wonder if the desire for life transformation (in a small part) drove the success of the Transformers toy line. We all want to morph from the ugly duckling to the beautiful swan.
Transfigured = Transformed
There is a very unusual story in the book of Luke about a hike Jesus took up a mountain in order to pray with his disciples. This is where the story gets interesting. On the mountain, Jesus "transfigures" while meeting with Moses and Elijah. This word, transfigured, is a little strange in our everyday language, but it basically means Jesus transformed, for that moment, into his eternal, spiritual body.
What happened on that mountain side? We don't know much about it, but we know this:
"They were glorious to see. And they were speaking about his (Jesus') exodus from this world, which was about to be fulfilled in Jerusalem." -Luke 9:31
Rejection, Pain + Discomfort = Transformation
These two men, Moses and Elijah, were well versed in what Jesus was soon to experience in Jerusalem. Jesus was to suffer through rejection, pain, and discomfort. Moses was the father of the law, and though celebrated throughout Jewish history, he lived through his own rejection, pain and discomfort. Elijah was one of the first of the prophets of Israel, and he too experienced rejection, pain and discomfort.
Jesus went to the mountaintop and was transformed, but only after deep conversations about the rejection, pain and discomfort he was to encounter.
It was true for Jesus. It is true for you. Spiritual and life transformation comes through rejection, pain and discomfort.
The Lost Son
Not long after Jesus' mountaintop experience, he tells one of the most famous stories in the Bible – the Prodigal Son (Luke 15). If you remember, the son runs from his father and family looking for transformation. The young man wants a new life. He wants to be his own man. So he set out for a new country, new life, new world. It lasted as long as his money did…not long.
Instead of a life of riches and fame, the son found rejection, pain and discomfort. He ended up feeding pigs and living off their left overs. Then something clicks. Jesus said, "He came to his senses." In pain, the son saw life for how it really was. His father was good and kind. The house of his youth was truly home.
In a filthy pig pen, after living through rejection, pain and discomfort, the boy transforms.
The Joy of Transformation
In the book of Proverbs, Solomon shares life wisdom any person can learn from. It is a series of lessons on life transformation – from foolish to wise. In one little nugget, he advises,
"Joyful are those who listen to me,
watching for me daily at my gates,
Waiting for me outside my home!"  
-Proverbs 8:34
Transformation is available to anyone, not just the giants of the faith – Moses, Elijah and Jesus. You and I can transform by listening, watching and waiting for it. Waiting may be the key word. Waiting often is a result of rejection. It can cause pain. Waiting more than a few minutes is uncomfortable.
Notice the first word, though, joyful. Joy is the result of waiting. Transformation isn't easy or fun. Transformation is uncomfortable, but it brings joy. The author of Hebrews explains this about Jesus in his final hours,
"…Because of the joy awaiting him, he endured the cross, disregarding its shame. Now he is seated in the place of honor beside God's throne."   -Hebrews 12:2b 
In the midst of rejection, pain and discomfort, you can look forward to the joy of being transformed. Rejection, pain and discomfort will soon be in the past, and you will be seated with Jesus in transformational joy.
How to Grow in the Waiting
In the right now, though, you must choose to grow in the waiting. Here's how:
1. Learn from your rejection.
Rejection is a very personal form of pain. But again, there are lessons we can learn from our rejection. The lesson could be in our behavior, or it can be found in the behavior of others. Either way, those lessons teach us how to interact better with the people God places in our path.
Rejection from people (or organizations) should also drive us closer to Jesus. Often, our response is either to isolate ourselves from God and people, or to run to other (more) destructive relationships. The best answer is to run to Jesus and learn from our rejections.
What can you learn about yourself and others from the rejection you've encountered?
2. Lean into you pain.
God's original plan for humankind didn't include pain. Pain was introduced to the world through the original sin of Adam and Eve in the garden. God doesn't want pain for us, but He uses it to teach us. When we avoid all pain, we avoid learning what God has for us today.
We shouldn't seek out or relish pain, but in those moments of pain, we should lean into it. We should ask, "What does God want to teach me?"
When we learn to ask those hard questions and lean into our pain, we can learn, grow and heal.
What is God teaching you through your pain?
3. Embrace your discomfort.
Our world mentors us to crave comfort. Even American Christianity teaches us that comfort equates blessing. That wasn't true in the life of Jesus or his followers. Too often, we avoid the uncomfortable because we can't imagine God calls us there.
When I embrace the uncomfortable or awkward places of life, I grow the most. Though this can happen to us, it happens best when discomfort is intentionally embraced. You must choose to step into uncomfortable situations.
Jesus chose the cross. He chose to walk a difficult road. Not always, but when it mattered most, Jesus chose discomfort.
What uncomfortable conversation or situation do you need to embrace?
Be Transformed
In some area of your life, you are waiting. Things aren't as you hoped they would be. It could be very serious, or it could be quite minor. In your waiting, learn from your rejection, lean into your pain, and embrace your discomfort. In the midst of it all, will you find childlike joy because, like a child's toy, you are being transformed.
Along with joy, hope awaits. You are being transformed.