Christmas is a season of contrast. For us in the Western Hemisphere, it's dark early and often, but with lights on trees and homes, hanging from streetlights and in parks, Christmas literally brightens that darkness. It's cold outside for us in the middle and higher of the United States, but the promise of Christmas seems to warm our hearts.
I appreciate the cold and darkness of the Christmas season. The rest of winter stinks, but I'd rather Christmas be cold and dark. I enjoy the contrast that Christmas lights and a warm fire bring.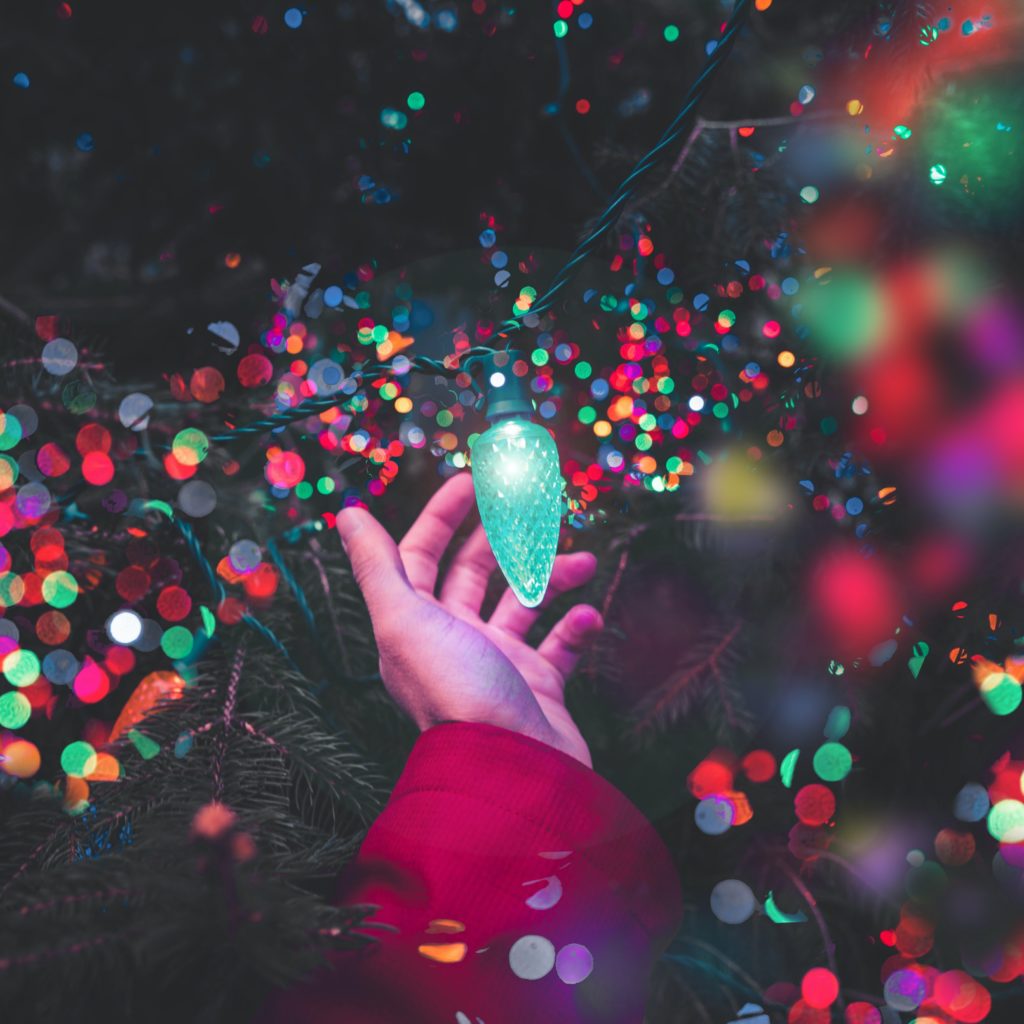 Then, just one week after Christmas, more contrast. We celebrate the end of one year and usher in a new one. One year dies but another comes to life. You've probably already seen end of the year lists. You may have begun to think about New Year's resolutions of a new Word of the Year.
Christmas in Genesis
For those of us who follow Jesus, the weeks following Christmas are a natural time to start or restart reading the Bible. One of the places to start this process is the book of Genesis — the beginning (side note: if this is your first time to try to read the Bible, I don't suggest starting in Genesis. Here is a great place to start). I recently read through the first few chapters of Genesis, and I noticed something for the first time. It happens in the first chapter of the book and first verses of the first chapter.
Here are the first three verses of the most read book of all time:
"In the beginning God created the heavens and the earth. The earth was formless and empty, and darkness covered the deep waters. And the Spirit of God was hovering over the surface of the waters. Then God said, "Let there be light," and there was light."  -Genesis‬ ‭1:1-3‬ ‭NLT‬
Read those verses again, and notice how baked within these three verses is the core of theology. God has always been.God brings everything into existence. Creation turns dark. Yet the Spirit of God lives and moves. God reenters. God lights the darkness.
This is Christmas. This season, we celebrate the new covenant God ushered in through the birth of Jesus. We are reminded of the darkness that once was and still is. We are thankful for God's presence in our life now. But we look forward to the fullness of His light yet to come.
Christmas throughout Scripture
It is the pattern you find throughout scripture.
God creates.
Darkness enters.
The Spirit of God hovers above and around
God reenters
Light.
Let's look at a few examples in the Old Testament:
A Traitor Redeemed (Genesis 37-50)
Judah was the fourth son of Jacob. Jacob was the grandson of Abraham, who God chose to create a new nation – His chosen people. Of the twelve sons in Jacob's family, Judah became the greatest but not without first walking through shame. 
Judah is overcome by darkness when he sells his brother Joseph into slavery. Judah didn't stop there. He ignores the dire needs of Tamar, his daughter-in-law (culturally his responsibility after the early death of his son). In retaliation and desperation, she deceives Judah and sleeps with him to conceive an heir. Judah is made aware and is humiliated.
Yet God's Spirit is always present, hovering in and around the scene. At the darkest moment – a famine has hit the region, threatening the whole family's survival – God reenters the scene. Judah redeems himself through a willingness to sacrifice himself when reunited with Joseph.
God speaks light to Judah and his family.
A Foreigner Adopted (Ruth 1-4)
Centuries later, God has grown Judah's family into a nation of millions. A picture of the whole nation, one small family of four encounters darkness. Forced to flee Israel due to famine, they end up in nearby Moab. The family consists of a mother, father and two sons. The sons marry Moabite women, and then…die. 
Both sons dead, the father dies also. The mother, Naomi, is left with nothing of value. Having nothing in Moab, Naomi and one daughter-in-law, Ruth, return to the home of Naomi with nothing more than a hope and prayer. 
In this dark and empty time, the Spirit of God hovers. Scavenging barley fields for scraps and left-overs, Ruth encounters Boaz, a rich land-owner. Boaz shows kindness to Ruth and encourages his workers to purposefully drop grain for her to gather. God reenters the story.
Through a series of events, Boaz redeems Ruth and marries her. This couple becomes the great grandparents to David, the greatest king in the history of Israel.
God speaks light to Naomi, Ruth and their whole family.
The Prodigal Returns (2 Chronicles 29-33)
Hundreds of years after the reign of David, one of his heirs takes the throne. Hezekiah was one of the godly kings you read about in the Old Testament. He obeys God and actively destroys idol worship. The list of great things he did could fill this blog post. Through Hezekiah, God is creating a better Israel.
Then darkness enters through the son of Hezekiah, Manasseh. For every good thing Hezekiah did, Manasseh did the opposite. Instead of destroying idols, Manasseh worships them. He goes as far as to set up idol worship in the Temple — the sacred place for the worship of God, but the cherry of evil on top?
Manasseh sacrificed his own son by burning him to death. The throne and nation are filled with darkness, yet the Spirit of God hovers in and around Israel.
Manasseh is judged by God in the form of capture and enslavement by an enemy nation. In his pain, Manasseh finally sees God. He repents, and God reenters the story. God put Manasseh back on his throne, and Manasseh follows in the footsteps of his father.
God speaks light to Manasseh and his lineage.
Full Circle Back to Christmas
It's possible you missed it. Look at those three names — Judah, Ruth, Manasseh. Now read the genealogy of Jesus listed in Matthew 1. Read verse three. Look at verse five. Glance at verse ten. 
Do you see it? Let me show you:
"Judah was the father of Perez and Zerah (whose mother was Tamar). Perez was the father of Hezron. Hezron was the father of Ram."  -Matthew‬ ‭1:3‬ ‭NLT
and
"Salmon was the father of Boaz (whose mother was Rahab). Boaz was the father of Obed (whose mother was Ruth). Obed was the father of Jesse."  -Matthew‬ ‭1:5 ‭NLT
and
"Hezekiah was the father of Manasseh. Manasseh was the father of Amon. Amon was the father of Josiah."  -Matthew‬ ‭1:10‬ ‭NLT‬‬
Included in the list of great grandparents of Jesus are Judah, Ruth and Manasseh. The pattern began in Genesis 1 returns to Matthew. God begins a work, darkness enters, the Spirit of God is hovering, God reenters, light.
God's Work in Your Life
I wonder if it is true in your life? Did God begin a work in your life? Is what began so wonderfully now cold, empty and dark? 
Be encouraged! The Spirit of God is hovering in, around, and above your life. You may sense and feel the darkness more than you do His Spirit, but God is with you. Even better? God is on the cusp of reentering your story. What once seemed so empty and dark will soon again be filled with light and hope.
My guess is you already know this. You've seen it before. You've seen God, you've been overcome with darkness, you sensed his Spirit, you've seen God reenter, you've heard him speak light.
It happened before, and it will happen again.
It is finished, so let there be light.
This Christmas season, enjoy the contrast. Notice the darkness lit up. Feel the warmth of a fireplace. May it be a reminder of the Spirit of God inside your story. He is within you because Jesus grew up, lived a perfect life, and as he died, spoke three profound words:
"It is finished."  -John 19:30
And because Jesus finished his battle against sin that day, may it also remind you that one day Jesus will return. When he returns, he will speak again. One final time, he will speak the words spoken at the beginning of time.
"Let there be light."
And there will be light (never again darkened).